It is no secret that the commercial devices used in industries like the automotive industry, medical industry, construction industry, farm equipment industry, aircraft industry, as well as heavy industrial equipment and even consumer products can be susceptible to natural wear and tear, no matter how expensive they may be and how well we treat them. By applying a layer of powder coating to the surface of the vehicular components you can slow down or even ward off the advances of contaminants, pitting and corrosion, and rust, which makes powder coating services a valuable service for someone looking to protect any commercial-grade product.
While there are many businesses in the coating industry, at Matlab Inc., our full-service coating facility takes pride in the commercial and industrial powder coatings and commercial finishing services we offer throughout North Carolina. We have over three decades of experience in spraying paints and offering quality powder coating services to protect your metal and composite materials to withstand typical damages. We take pride in our work to provide our community the service it needs from our Asheboro office.
How The Custom Powder Coating Paint Process Works
In the first step of our coating process, to make our pigmented powder particles adhere to slick surfaces like metal, the particles need to undergo an electrostatic adhesion pretreatment process using organic-compounds. This process electrostatically charges the particles before they are sprayed to the surface with a spray-gun using a "misting effect." Once the coating is applied with environmentally safe volatile organic compounds, the powder-coated product then enters our ovens to bake for a fixed amount of time, where powders will then melt and cure at a precise high temperature, turning it into an extremely hard surface with the proper hardness. After the new coat has cooled down, another dry powder coat is applied with a powder coating gun, this time with a gloss or matte clear coat that the client has chosen, and undergoes the baking and curing process in our curing oven once more. Once the powder coated paint has bonded to the coated parts in the coating color you selected during the finishing process; you can enjoy the durable powder finish.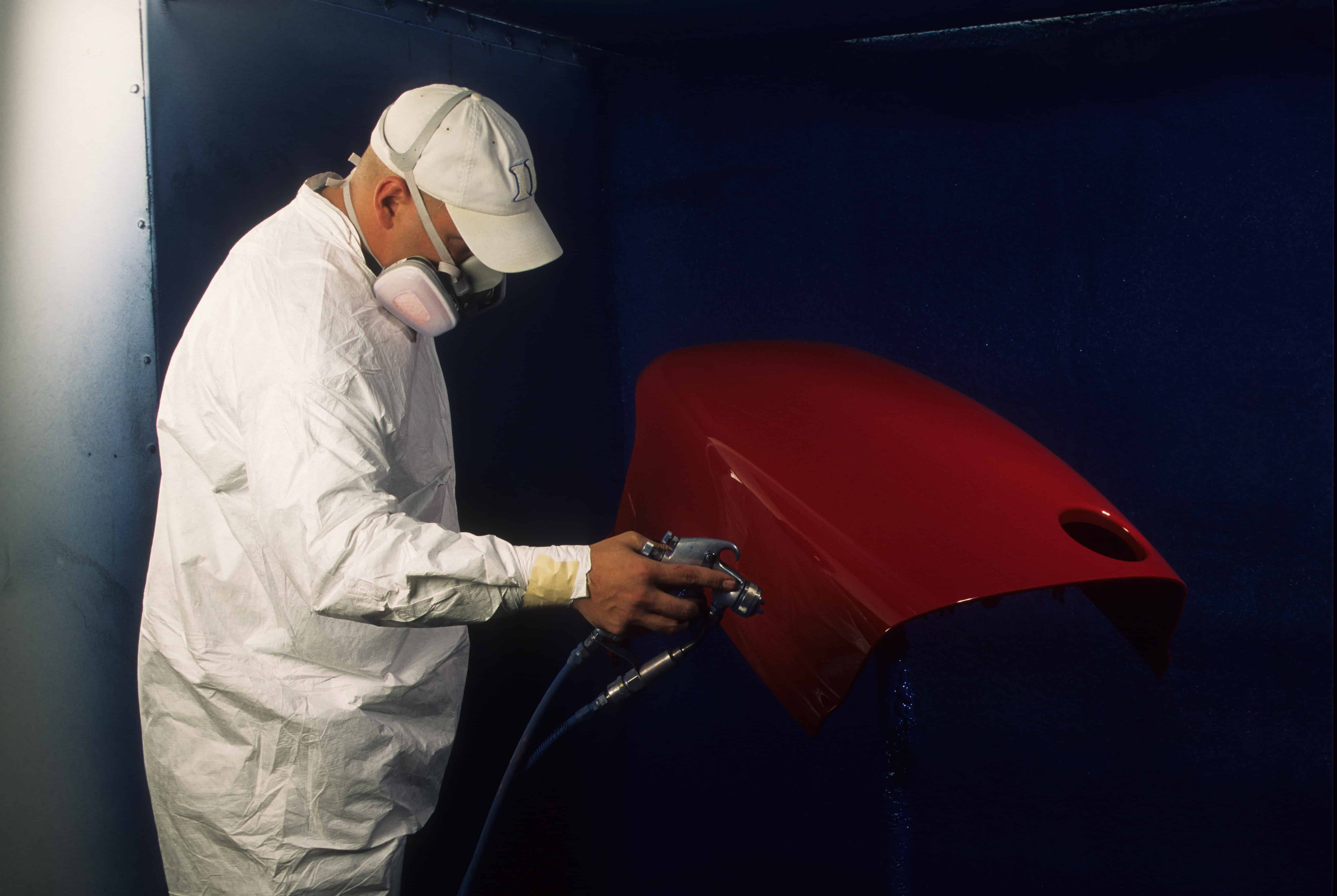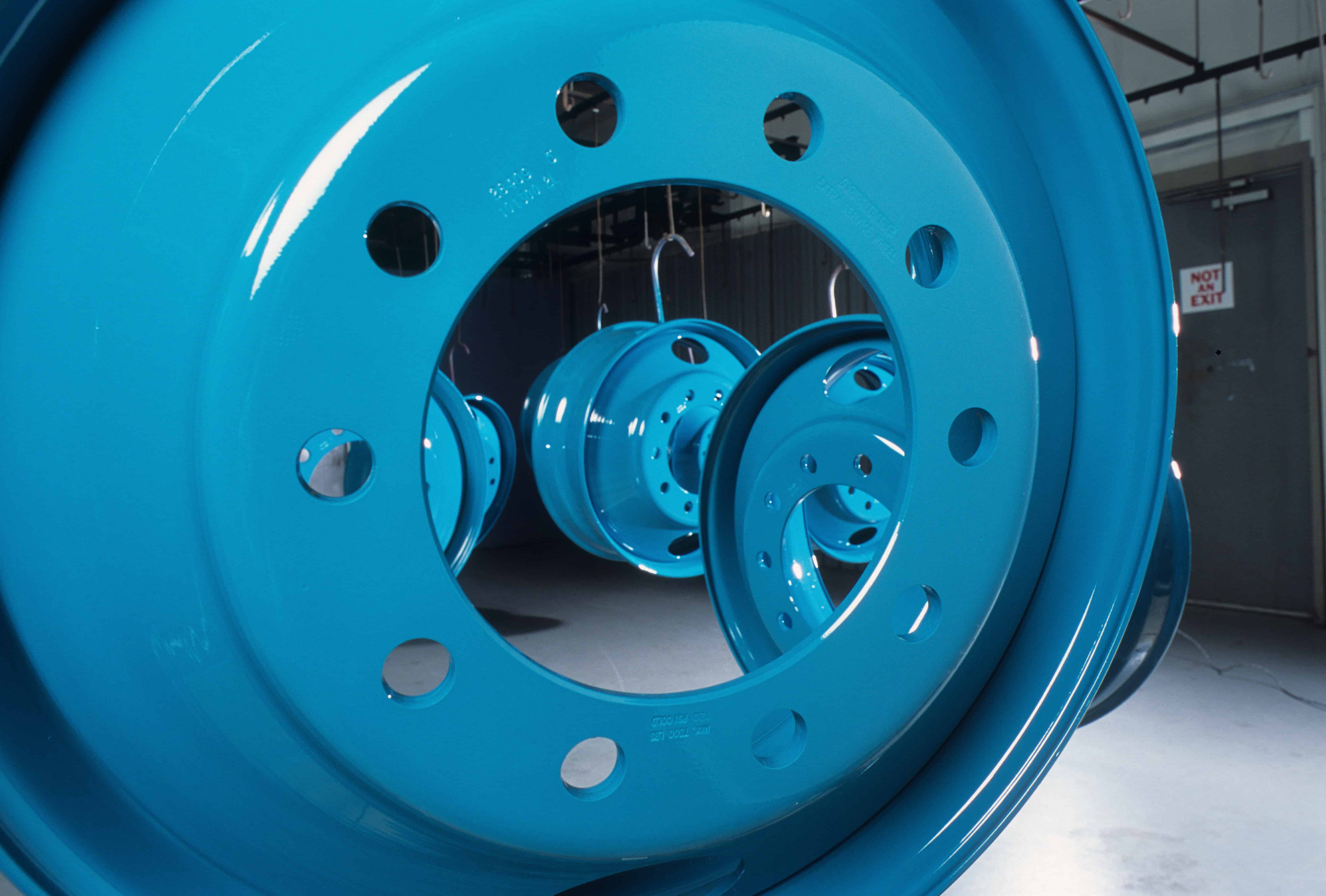 Our automotive class powder coating system spray booth can apply protective coatings to parts with dimensions as large as 3 ft by 4 ft by 8 ft in an environmentally controlled power room. Our media metal conveyor powder coating line offers automatic powder coating equipment, a 5-stage wash, three in-line booths, and can take in large pieces with its 4 ft by 5 ft opening.
Our powder coating service, compressed-air spray guns, powder coating oven, and other state-of-the-art coating systems can be used to cover equipment such as heavy construction equipment, agricultural equipment, aircraft and aircraft walkways, railing, radio towers, fleet vehicles, military vehicles, other machinery, and much more. No matter what job our clients have for us, our skilled technicians work to skillfully and accurately apply your equipment with a long-lasting finish that you can trust to stand up against the most damaging environments.
Let Us Protect Your Products
Powder paint coating is a protective process that offers many advantages, including a stronger defense against any volatile organic corruption, friction, hazardous substances, and abrasion; it's often more cost-effective, has a faster turnaround process than wet paint, and even offers a wide variety of high-gloss, custom color matching with metallic colors and other powder coat colors to choose from. 
If you are interested in having our Asheboro, NC coating plant of Matlab Inc. provide you with the high-quality environmentally friendly powder coat paint services your products need, contact us today to request a free quote and answer any questions about your automotive powder coating projects. We are excited to help you with your powder coating needs.
Have a custom powder coating job in mind?
Contact Matlab Today For a Free Quote!